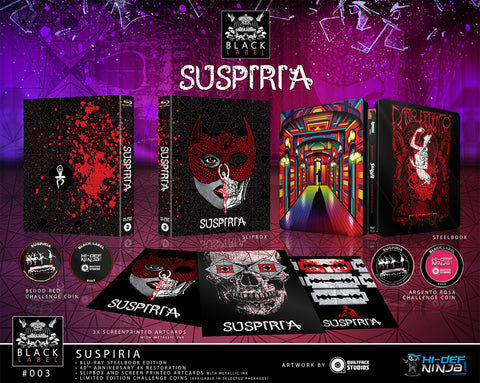 SHIPPING NOW
DETAILS:

Here is the 3rd release in our line of Black Label limited edition collectibles. Featuring the quintessential release of Suspiria to ever hit home media from Synapse Films with thousands of man hours put to the test to bring you this definitive edition.  Hi-Def Ninja has focused on bringing the collector some of the most quality and exciting extras seen in the SteelBook world!  This is a 3 disc edition,  Blu-ray, Blu-ray Extra Feature Disc, and a soundtrack CD as well.  The Blu-rays are region locked to A.
Each SteelBook is packaged in exclusive slipboxes with commissioned artwork from some of the most talented artists working in the industry, along with exclusive and very limited challenge coin(s) found nowhere else.  There is ONE challenge coin per SteelBook edition bought.  Color of coin is awarded at random to orders.  Each edition comes with three 4x6 Screen Printed Art Cards featuring one metallic ink as well housed in a HDN Black Label envelope inside your SlipBox.  
Each edition from Hi-Def Ninja is strictly limited to 200 units each and individually numbered.
SPECIAL FEATURES:
Three disc [Two Blu-rays + One CD] limited collector's edition containing a new 4K restoration of the original uncut, uncensored Italian 35mm camera negative exclusively done by Synapse Films, with color correction supervised and approved by SUSPIRIA Director of Photography, Luciano Tovoli
Original 4.0 1977 English language LCRS sound mix not heard since the theatrical release in 1977, presented in high-resolution DTS-HD MA 96 Khz/24-bit audio
Italian 5.1 surround sound mix
Two audio commentaries by authors and Argento scholars, Derek Botelho, David Del Valle & Troy Howarth
Do You Know Anything About Witches? - 30 minute SUSPIRIA visual essay written, edited and narrated by Michael Mackenzie
Suzy in Nazi-Germany – Featurette on the German locations from SUSPIRIA
A Sigh from the Depths: 40 Years of SUSPIRIA – All-new anniversary retrospective on the making of the film and its influence on cinema
Olga's Story – Interview with star Barbara Magnolfi
Original theatrical trailers, TV spots and radio spots
Special Collector Edition Booklet containing an American Cinematographer interview with Luciano Tovoli, liner notes by Derek Botelho and restoration notes by Vincent Pereira & Don May, Jr. Cover artwork by Matthew Therrien Illustration
"International Classics" English "Breathing Letters" opening credit sequence from U.S. release version
Alternate All-English opening and closing credits sequences, playable via seamless branching
Newly translated, removable English SDH subtitles for the English language version
Newly translated, removable English subtitles for the Italian language version
Exclusive CD remaster of Goblin's SUSPIRIA motion picture soundtrack, containing additional tracks not included on the original 1977 soundtrack release
---
More from this collection